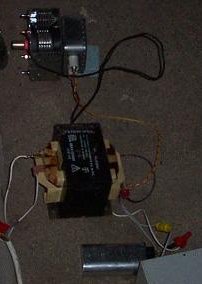 So you got one of the newfangled wireless networks? Killing wired ethernet is one thing. Even fiber optics is easy compared to wlan killing. To kill a WIFI transceiver, you have to dump enough energy via radiowaves to kill it. As most WIFI networks operate on the ISM-band, 2.4GHz, this is what we'll concentrate on. The ISM band happends to be used by microwave ovens as well...
So, essentially a microwave oven is a .5-1kW radio transmitter, with huge amounts of sideband noise, concentrated on 2.4GHz, which is the same as our WIFI network...
A microwave oven with a minor fault, say it got it's covering dismantled[1], works just fine for jamming a WIFI network. I've not detected any damage from this, but the network certainly stopped working, which is nice enough. It at least ensures that nobody's hurting your network performance via wifi...
The magnetron in the image is a excellent example of a microwave oven with minor defects in its covering, which makes it a nice source of electromagnetic emissions centered around WIFI frequencies.
If you happend to use 802.11A equipment (aka 5.8GHz), you certainly need to buy cheaper networking equipment, as 2.4GHz will not make huge impacts on the stability of this... You might hope that harmonic frequencies will make a impact, and it probably will, but not as powerful effect as on a 2.4GHz net.
[1] Please note that this might not be entirely legal, no matter where you are in the world. The maximum transmission power is usually under a watt, and you're about 2000 (33dB) times above that limit...
(C) etherkiller.org 2008